Our Sixth Grade Program focuses on children that are eleven to twelve years old.
Our program has a touch of excitement with Social Studies covering the geography and history of the Latin American countries. Includes ancient Indian empires, Spanish exploration and conquest, as well as modern population, culture, and exports. Science covers Human Anatomy and Physiology, including an exciting science kit. Students continue to grow in their reading and math skills, including learning about fractions, decimals, percentages, basic geometry, maps, graphs, charts, units of measure, averaging, rounding, and Roman Numerals.
Math – Book 6
Continue the adventure with Charlie and Charlotte as they learn about fractions, decimals, percentages, basic geometry, maps, graphs, charts, units of measure, averaging, rounding, and Roman Numerals.
This level of Math Lessons for a Living Education has a separate teacher guide, which also includes all quizzes, quiz answers, worksheet answers, a suggested daily schedule, reviews, a final exam and guidelines for an optional end of year student presentation. The end of the book also includes information on transitioning from this level to Book 1 of Principles of Mathematics and even contains the first chapter as an excerpt so you can get a closer look.
Reading 6
Sixth graders need examples of courageous men and women to follow. The reader Calls to Courage provides such examples: George Washington Carver, who coaxed poor Alabama soil into production; young Jakob, who discovered the meaning of the word responsibility; Judith, who found that maturity doesn't come in the mail; Jack, the slave who found the most important thing in the world and suffered so others could have it too.
Made In His Own Image (Discovering Nature Series)
This yearlong science course introduces human anatomy and health, including nutrition, the five senses, how the body systems work, staying healthy, and more.
From the different types of joints and bones to chiropractic care, from the layers of skin to how tobacco, alcohol, and drugs can harm, from muscles and tendons to protein, fats, and carbohydrates, from the benefits of exercise to how the nerves and brain work, from how sugar harms the body and how gluten can affect those with autoimmune disease, this course covers many topics. From caring for your teeth to how to discern good fats from bad fats, from how your body digests food to the importance of drinking enough water, from the five senses to vitamins and minerals and much more, this course is one that will benefit all students who wish to learn more about the one body they were given by God, and how to be its best steward.!
Stethoscope
This single-head, aluminum-alloy stethoscope is a perfect way to introduce older children to the interior workings of the human body. Heart, breath, and even abdominal sounds can be easily heard through the diaphragm with a little practice
Art With a Purpose
Simple step-by-step art lessons for children in grade 6. This course includes shading with colored pencils, drawing faces, lettering, grid work, freehand and perspective drawing.
Number the Stars
This Newbery Medal Book describes how a ten-year-old Danish girl's bravery is tested when her best friend is threatened by Nazis in 1943.
God's Smuggler (Young Reader's Edition)
The thrilling story of a spy for God!
It's the Cold War, and fear rules most of the world–especially Eastern Europe, where all talk of God is against the law. Yet one unlikely man refuses to give in to tyranny.
Armed only with God's Word and His protection, Brother Andrew risks his life, again and again, to go behind enemy lines to bring Bibles and hope to the desperate, oppressed people of the world.
This is his exciting story. Join him for the adventure of a lifetime and see for yourself how God always makes a way for those who trust in Him.
Language Lessons for Secondary Child V1
This volume contains grammar, punctuation skills, copywork, narration, dictation, picture study, letter writing, and more – with a strong emphasis on learning about and learning to write different types of poetry.
Bible – God's Chosen Family as a Nation
This study covers Old Testament history from King Saul to the end of the Old Testament. As the pupil studies the Israelite kings, prophets, and the nations' responses to God's messengers, they see the importance of right choices and the awful results of rejecting truth. They follow the Israelite nation, both the Northern and Southern Kingdoms, to captivity because of their sin. They return with a remnant of Jews to rebuild the nation of Judah in the face of opposition from surrounding enemies.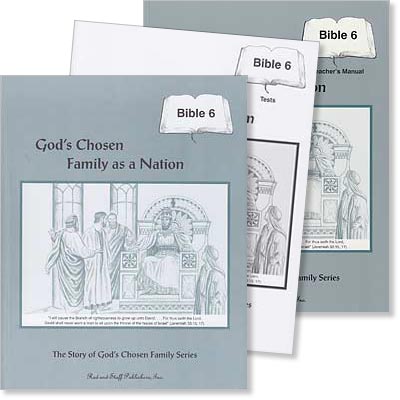 Spelling – Grade 6
The Grade 6 spelling book is a hardcover textbook with 34 weekly lessons. Twenty-eight lessons of 2 pages each introduce and work with 16 "New Words" and 4 "Review Words." Every sixth lesson is completely review and covers 2 pages.
The World's Story 1: The Ancients
Students will start with God's Creation and learn all about Biblical history and ancient civilizations up to the time of the Early Church.
Elementary Geography & Cultures
Elementary Geography & Cultures guides your student on a journey across the globe in this engaging elementary geography course! Students will explore continents, countries, and cultures around the globe while discovering biomes, history, government systems, heritage sites, recipes, and Christian heritage through visually stunning books and engaging worksheets!
Stories of Foster & Sousa In Words and Music CD
No quality education would be complete without a study of the greatest names in musical history. Music Masters eases your research and preparation by interweaving a narrative about the composer's life with selections of his most important works.
Story of Haydn in Words and Music CD
The story of Hadyn's life and selections of his most important works.
6th grade with alternate math includes:
Zeta Math Primer
Zeta extends the student's concept of place value to the right of the decimal point. Students learn to complete core operations with decimals. The connection between fractions and decimals is presented.
Purchase options
OR
Tuition billed separately ($28 a month for 10 months).
---
Add-ons