Our Sixth Grade Program focuses on children that are eleven to twelve years old.
Our program has a touch of excitement with Social Studies covering the geography and history of the Latin American countries. Includes ancient Indian empires, Spanish exploration and conquest, as well as modern population, culture, and exports. Science covers Human Anatomy and Physiology, including an exciting science kit. Students continue to grow in their reading and math skills, including learning about fractions, decimals, percentages, basic geometry, maps, graphs, charts, units of measure, averaging, rounding, and Roman Numerals.
Math – Book 6
Continue the adventure with Charlie and Charlotte as they learn about fractions, decimals, percentages, basic geometry, maps, graphs, charts, units of measure, averaging, rounding, and Roman Numerals.
This level of Math Lessons for a Living Education has a separate teacher guide, which also includes all quizzes, quiz answers, worksheet answers, a suggested daily schedule, reviews, a final exam and guidelines for an optional end of year student presentation. The end of the book also includes information on transitioning from this level to Book 1 of Principles of Mathematics and even contains the first chapter as an excerpt so you can get a closer look.
Reading 6
Sixth graders need examples of courageous men and women to follow. The reader Calls to Courage provides such examples: George Washington Carver, who coaxed poor Alabama soil into production; young Jakob, who discovered the meaning of the word responsibility; Judith, who found that maturity doesn't come in the mail; Jack, the slave who found the most important thing in the world and suffered so others could have it too.
Exploring Creation – Anatomy
From the brain in your head to the nails on your toes, you and your students will encounter fascinating facts, engaging activities, intriguing experiments, and loads of fun as you learn about the human body and how to keep it working well. Beginning with a brief history of medicine and a peek into cells and DNA, your students will voyage through fourteen lessons covering many subjects, such as the body systems: skeletal, muscular, respiratory, digestive, cardiovascular, nervous and more!
The Anatomy Notebooking Journal is an integral element for those using the Human Anatomy and Physiology book. This journal is uniquely designed to correspond with every assignment and activity in the course book. This Notebooking Journal serves as each student's individual notebook, providing a place for each student to complete every assignment in the book, including the notebook activities, the Personal Person Project, experiments and much, much more.
Lab kit
This lab kit makes it easy and convenient to do the hands-on projects found in the book without running all over to find what you need. The kit contain most of the materials for the experiments, and is conveniently packaged by lesson in the corresponding book. There are still a few items you will need from around your house, but with this kit the list becomes extremely short.
Art With a Purpose
Simple step-by-step art lessons for children in grade 6. This course includes shading with colored pencils, drawing faces, lettering, grid work, freehand and perspective drawing.
Behind Rebel Lines
The incredible story of Emma Edmonds, Civil War spy. Author Seymour Reit used U.S. Army records and files from the National Archives to reconstruct the tale of this gutsy woman, who joined the Yankee army disguised as a man.
Progressing With Courage
English 6 has 132 lessons divided into 11 chapters. The first two chapters deal with understanding sentence types and structure. Chapter 3-6 and Chapters 8-10 focus on the 8 parts of speech. Chapter 7 teaches concepts about capitalization and punctuation. Chapter 11 deals with miscellaneous lessons on the dictionary, Bible reference books, synonyms, antonyms, homonyms, and word families. Interspersed throughout the book are 32 oral and written composition lessons. Continual review is built into the course.
Bible – God's Chosen Family as a Nation
This study covers Old Testament history from King Saul to the end of the Old Testament. As the pupil studies the Israelite kings, prophets, and the nations' responses to God's messengers, they see the importance of right choices and the awful results of rejecting truth. They follow the Israelite nation, both the Northern and Southern Kingdoms, to captivity because of their sin. They return with a remnant of Jews to rebuild the nation of Judah in the face of opposition from surrounding enemies.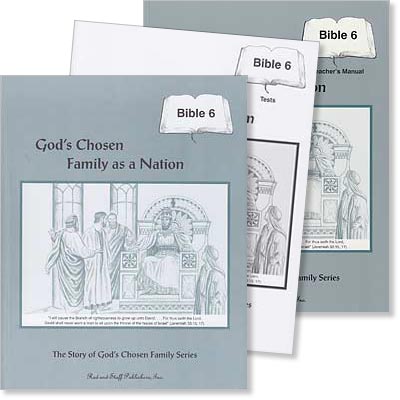 Spelling – Grade 6
The Grade 6 spelling book is a hardcover textbook with 34 weekly lessons. Twenty-eight lessons of 2 pages each introduce and work with 16 "New Words" and 4 "Review Words." Every sixth lesson is completely review and covers 2 pages.
Understanding Latin America
This textbook covers the geography and history of the Latin American countries from a Biblical viewpoint. There are 12 chapters, each with 2 or 3 parts, plus review lessons.
Geographical and political features of the countries are emphasized in the first eight chapters. Climates, population, exports, and other statistical information are discussed and map skills are taught.
6th grade with alternate math includes:
Zeta Math Primer
Zeta extends the student's concept of place value to the right of the decimal point. Students learn to complete core operations with decimals. The connection between fractions and decimals is presented.
Purchase options
OR
Tuition billed seperately ($28 a month for 10 months).
---
Add-ons