Our First Grade Program focuses on children that are six to seven years old and introduces children to the wonderful world of reading. Students concentrate on reading and beginning math skills with a minimal amount of focus in other subjects.
Many of the items in this package are non-consumable, if the original items are kept then additional children going through this level would have an enrollment fee of $245. The full-year fee would be $545.
A Child's Garden of Bible Stories
Remember when you read your first Bible storybook? It may have been this volume. Originally written in 1948, this book has enjoyed a popular readership for more than fifty years.
Today's classic version offers sixty Old and New Testament Bible stories in updated language. Read to your children the timeless biblical accounts of God's faithfulness.
My Story 1 – And the World Around Me
My Story and the World Around Me is a course for lower elementary students. It includes basic introductions to history, politics, sociology, economics, and geography, and provides a fuller understanding of God's world and the cultures of the countries.
This is a daily adventure-based curriculum series that encourages families to explore the world together through four nine-week quests and to understand it better from God's perspective. It is designed with elements that make weekly learning fun and interactive, including:
Activity time
Word find time
Review time
My story journal
Learn all about the world while you discover more about your own. And make sure you pull out your Quest Collector Cards at the beginning of each quest. Your world map on the other side shows where you are in each lesson!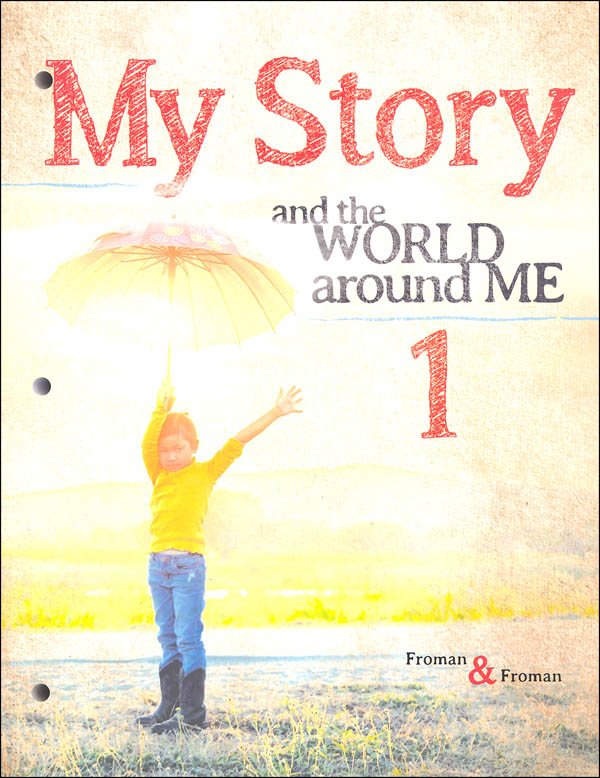 Language Lessons for a Living Education: Level 1
Move beyond simple phonics to a gentle course that introduces important basics in grammar while encouraging creativity. They will make vital connections between the endearing images they see and the words they learn. Students will enjoy reading fun stories and completing activities in this full-color book.
They will begin to learn how to communicate with age-appropriate vocabulary words and very simple sentences build on and reinforce their understanding of the building blocks of grammar, vocabulary development, spelling, and connections that are at the heart of reading comprehension. Independent reading books and learning to master writing letters and small words are core to the course.
Written with a Charlotte Mason influence but designed for modern homeschoolers, students will enjoy poems and picture studies, as well as faith-growing verses to reinforce what they are learning. Activities include the structure of simple poems, Scripture passages, word rhymes, some basic language rules, creating a dictionary, easy narration, and critical thinking.
Charlie and Trike in the Grand Canyon Adventure
Meet Charlie, an ever-inquisitive monkey, and his best friend Trike, a calm ceratopsian dinosaur with vital faith answers, as they wind their way along the rim of the Grand Canyon, and take a mule trip with their guide Captain Wes down into this incredible landscape. Experience the adventure each time you read this unforgettable book with its pull-out features, maps, flaps, and a panoramic three-page Canyon drawing! 
Not Too Small at All: A Mouse Tale
What is God's purpose for me? It's something everyone wonders about, even small children. With a world that is so big all around them, young children can be overwhelmed by the thought of trying to accomplish anything. Follow the charming story of Grandpa Mouse's journey to the ark as children see how they too can accomplish big things despite (or even because of!) their small size. 
The Door of Salvation
Did you know there's a very special door? Noah and his family through the door went in. When God judged the world because of sin. We need to go through a doorway too: Jesus is that door for me and for you. It's a free gift for all of us to receive. To all of those who repent and believe!
Foundations Phonics
Though many parents think teaching their child reading will be daunting, it doesn't have to be! You're already teaching your child important things every day, and with Foundations Phonics, you'll have all of the help you need to do that with reading, as well.
You don't even have to spend time planning because we've already done that work for you. This phonics program features easy-to-use lessons and a schedule. Foundations Phonics requires just three 20-30 minute lessons each week for 18 weeks and relies on common household items (like crayons, rice, and play-dough). This simple, practical approach not only saves you time but it also appeals to children and is designed for kids with a wide range of learning styles.
Even better, this flexible program does not require children to be ready to write to learn to read, as most other phonics programs do. There are separate worksheets for children who are ready to write, but it also includes activities and coloring sheets for those who aren't quite ready to start writing. For that reason, this program is also flexible enough for use with either kindergarteners or 1st graders. If your 5 or 6-year-old is ready to start reading, you're ready for Foundations Phonics!
All of this plus this program is firmly rooted in the Bible, with each lesson tied to a Christ-centered concept. By the end, your child will know phonics and also the Gospel"from Creation to the Resurrection.
Teaches phonics and the Bible
Flexible and easy-to-use
Engages children with its emphasis on play-based learning
Zingo! Sight Words Game
Practice reading sight words with this variation of Bingo. The dealer slides the Zingo! Zinger to reveal two sight word tiles. If one of the tiles matches a word on a player's card the player calls out the word and places the tile over the word on the card. Play continues until all 9 spaces are filled or a specified pattern is created. Game cards are double sided for two levels of game play. Game includes 72 sight word tiles (24 sight words each used 3 times), 6 double-sided cards, and the Zingo! Zinger. A great way to build reading skills through fun repetition.
Bob Books Stage 1: Starting to Read
These beginning readers feature engaging stories on a beginning reading level with one-syllable words and short vowels. There is plenty of repetition and controlled vocabulary to give children success in their reading. Printed in black and white with one color accents, the box includes twelve books that progress gently through Graded Reading Levels A, B, and C.
Bob Books: Sight Words (First Grade Set)
Set includes ten 12-page books and 30 two-sided flashcards. Illustrations are simple and offer clues to the story on the page, and words are limited to short-vowel words that are three to five letters in length. 30 sight words per set (3 new sight words per book).
Baby Animals (Usborne Young Beginners)
Baby Animals is part of an exciting reading series for young children, with lots of pictures and very simple, easy text.
Bugs (Usborne Young Beginners)
Bugs is part of an exciting reading series for young children with lots of pictures and very simple text about the fascinating world of bugs.
Ponds (Usborne Young Beginners)
How do tadpoles turn into frogs? Can spiders live underwater? What do dragonflies eat? Beginner readers can discover the answers to these questions and lots more in this engaging information book, with soft, warm illustrations and simple text children can easily understand.
Seasons (Usborne Young Beginners)
Seasons is part of an exciting reading series for young children, with lots of pictures and very simple text.
Pentime Manuscript 1 and 2
In the first workbook, students focus on writing the individual letters on wide lines with a dotted midline. The correct strokes are shown (and numbered) for each letter along with plenty of space for children to practice.
The second book continues practice of upper and lowercase letters but adds words and sentences as well. In place of stroke guides, a dot on each letter shows children where to start forming the letter.
Math Lessons for a Living Education Level 1
In Book 1, Charlie and Charlotte visit their grandparents' farm and learn numbers, shapes, place value, adding and subtracting. Along the way, the children also learn about gardening, baby farm animals, nature, family and love. In the first 30 lessons children will learn about numbers 0-9, place value, rectangles, circles, addition, subtraction, skip counting with 2, 5, and 10, telling time with minutes and hours, and more. The last 6 lessons of the book are a review. Each lesson has enough materials to last one week.
Adventures in Creation: Level 1 (Let's Talk Science)
Adventures in Creation is an early elementary science curriculum designed to bring the Bible to life and instill a love for science. Through exploration, investigations, and biblically inspired stories, your students will discover that science is a wonderful tool God has given us to study His creation. They will learn more about His nature as they ask questions and experience God's world through science.
Adventures in Creation is hands-on fun, easy to prepare for, and it will encourage your student's curiosity! First grade level students can complete the lessons in approximately 20 minutes. This one-year course is designed to be studied three times a week.
This course includes:
Engaging experiments and activities to bring learning to life
Memory verses with hand motions to help students memorize Bible passages
Discussion Starters that encourage students to dive deeper into the topics they're learning
Activity pages for students to create their own Science Notebook to share
Crayola Colored Pencils Long 12 Count
This pack of 12 pre-sharpened colored pencils contains a range of vivid colors to inspire children's self-expression and imagination. Made with thick, soft leads that won't break easily, the pencils create brightly colored lines that are perfect for school projects and creating detailed artwork.
Do Art Coloring with Clay
Do Art Coloring with Clay is a brilliant clay coloring kit that uses preprinted boards for children to create amazing, eye-popping works of art. Your child can marbleize, layer, and blend the 12 vibrant clay colors to create one-of-a-kind masterpieces.
Prisms Discovery Kit
Perform simple experiments for light, color, and refraction with the items included in this kit – 2 acrylic prisms, 4 mirror clips, 3″x 5″ plastic mirror, 6″ clear plastic protractor, and 6″ clear plastic ruler. The included instructional guide offers instruction for 3 activities with light and color and 2 activities for refraction.
Round Magnifier 3″ 2X
Perfectly functional with no bells and whistles, this bare-bones magnifier is perfect for the home, school, and office. The magnifier features a shatterproof and scratch-resistant lens.
Pick a Brick Game
Players take turns picking bricks and removing them from the wall. But be careful not to make the wall collapse as the nesting hen will tumble to the ground. Pick your brick wisely for if you choose the wrong brick and remove it too briskly the hen will fall and you will lose the game. Pick a Brick is a fun and smart game for all ages for 2-4 players.
* Original design
* Natural wood
* Develops logical thinking
* Encourages social interaction
* Develops motor skills

The Bravest Dog Ever: The True Story of Balto
It is one of the worst storms ever – the snow has not stopped for days and it is 30 degrees below zero. But somehow Balto must get through. He is the lead dog of his sled team. And he is carrying medicine to sick children miles away in Nome, Alaska. He is their only hope. Can Balto find his way through the terrible storm? Find out in this exciting true story! 
Cat in the Hat
What would you do if the Cat in the Hat came to see you when your mother is out? The children are bored when the cat comes to brighten up their day. But the fish is adamant that the cat is no good. Will the children be able to explain the mess to their mother?
Little Bear (ICR L1)
Little Bear's mother helps him through all his adventures – from figuring out that he really doesn't need a coat to go outside in the winter to granting his wish at storytime.
Put Me in the Zoo
"Oh! They would put me in the zoo, if they could see what I can do!" This unique creature wants nothing more than to be put in the zoo, but his two new friends show him that there is a better place for him and his amazing "spotting" talents. A great book for beginning readers! 61 pgs, hc.
Art With a Purpose
36 Lessons. Simple coloring skills; color-by-number; cutting and pasting.
8-Note Handbell Set and Hymns for 8 Note Handbells Package (bk & CD)
Make beautiful music with these high-quality bell sets that can be enjoyed by the whole family. The bells are 5″ tall with long handles for easy gripping, and each has note names and numbers clearly marked on the top of its handle. The metal bells are all different colors and feature springs inside that are very durable and also make it easy to control playing.
Hymns for 8 Note Handbells includes twenty-four arrangements of twelve popular hymns that can be played with an 8-note handbell set. Examples include Amazing Grace, Jesus Loves Me, and Peace Like a River.
1st Grade with alternate math includes:
Alpha Universal Set
Includes everything you need for a successful experience with Alpha: Instruction Manual with complete solutions, Instruction DVD, Student Workbook, Tests booklet, Integer Block Kit, and 12 months of access to the Alpha Digital Pack, which includes the Skip Count Songs MP3s and Songbook PDF.
Purchase options
or
Tuition billed seperately ($30 a month for 10 months).
Add-ons